A Lesson On Kissinger History and Current Events From The Daily Show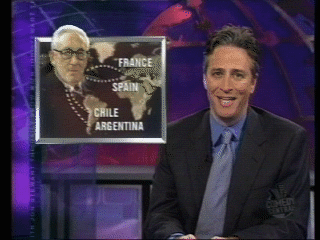 Jon Stewart's Daily Show is one of the best things on television right now. Lately, the shows are so newsworthy and informative (besides being totally hilarious) that I've decided to start showing clips from them here. (Now that I am set up to do so by recording from my TiVO into my camera and then capturing that into my computer and generating a quicktime from that.)
My first creation is a three minute montage made up of clips from some of last week's sequences on Henry Kissinger, the recent appointee to chair the Shrub's committee to investigate 911 (57 MB):
The Daily Show On Kissinger (from 12/04/02) (MP4 - 10 MB)
Update: 10/23/03 - new format that should work better for everyone and play within the browser.
Note: Let me know if these videos work for everyone ok? And if not, what platform and application you're using to view it, etc. I'm trying to figure out what set of formats I need to provide my footage can be accessible to everyone.
I'm also ready to help walk you through the process if need be getting set up to view video if you're not already so you can follow along on my various video expeditions.
So please email me at lisarein@finetuning.com if you're having trouble of any kind. Thanks!

Posted by Lisa at December 09, 2002 11:10 AM | TrackBack