March 13, 2008
Real Life Party In San Francisco Tonight for Spot Draves Second Life Node Zero Gallery Opening - 6-9pm Atlas Cafe, 20th and Alabama
Wow this is really getting exciting. Seems like a lot of people are coming by tonight.
We were happy to see the opening mentioned in
Boing Boing and Massively this week.
So... Spot decided to have a party tonight in real life to coincide with tonight's
Second Life Art Opening.
That's right! Tonight! - Thursday, March 13 - from 6-9pm at Atlas Cafe, San Francisco.
They have good beer, wine and food there! Just come by after work.
We'll be out in the back yard. It's bluegrass night inside - we'll be outside.
Spot will be there live - with his projector in tow.
Hope to see you there!
March 11, 2008
Node Zero Gallery Opening Thursday, March 13 - Live w/Spot Draves
Join us this Thursday evening from 6-9pm as the Node Zero Gallery takes the Second Life art experience to a new level with its latest collection of interactive exhibits from 8 emerging new artists.
(Sponsored by The Wishfarmers.)
Spot Draves (SL-Sp0t Schism), creator of the Electric Sheep Screensaver, will be there in person for a live Q and A session at 7pm.
"Sheep Vortex" is digital artist Spot Draves' first Second Life art experience (3D Art & Design by Somatika Xiao - a.k.a. David Stumbaugh). Note: You will have to have version 1.19.0.0 or later running.
(Remember to click your "play" button, and have video enabled in your "Preferences" under the "Audio & Video" tab.)
In addition to Spot's creation, this Node Zero Collection features the work of no less than seven emerging new talents: Georg Janick, Feathers Boa, Bryn Oh, Adam Ramona, Aiyas Aya, Ub Yifu, and Crash Perfect. (Keep an eye on the Node Zero Gallery category for more interviews with the artists.)
I can't tell you how to interact with these ones yet, or I'd be giving it all away. I'll let the art pieces explain it to you themselves...
Sp0t Schism (Spot Draves) in the Sheep Vortex
Cory Doctorow says: "This is a distributed rendering application that grabs its users' computers' idle cycles to create computationally expensive, vivid and beautiful animated fractals...The result is a breathtaking, psychedelic form of artificial life whose fitness factor is the ability to tickle the aesthetics of computer geeks."

(and about Spot's DVD): "This isn't just trippy wallpaper -- it's not even just art. This is garage-band artificial life. Draves is cooking up a new species made of code, decision and cooperation, and this disc is a petri dish swimming with the organisms that deserve to succeed us here on Earth. I for one welcome our new a-life masters."
The main
Node Zero Gallery is also always open.

(Note: Click on the big doors to enter the gallery after your teleport lands you in the front entrance area.)
Spot's work is currently featured on the MOMA website and was also featured on the cover of this month's Leonardo.

Here's the first part of a multipart interview with Spot, where he explains some of the background and technology behind the making of these artistic marvels.

I'll also be interviewing a few of the other featured artists over these next few days leading up to the opening -- and taking you on tours through some of their interactive pieces.
BTW: Note that Spot and the Electric Sheep Screensaver are not affiliated in any way with the Electric Sheep Second Life development company.-- Just FYI. Everybody asks :-)
This post and all the art in it is under the same Creative Commons Attribution 2.5 Generic license, as is all of Spot's art.
Interview with Electric Sheep Artist Spot Draves - Part 1
The exhibit features Spot Draves, Georg Janick, Feathers Boa, Bryn Oh, Adam Ramona, Aiyas Aya, Ub Yifu, and Crash Perfect.
(Sponsored by The Wishfarmers.)
Keep an eye on my Node Zero Gallery Category for more interviews with artists all month long.
The interview below is the first of several parts. It took place on January 30, 2008.
Spot: I've been programming computers my whole life, and this is the distillation of all of that experience. So yeah, they're not supposed to look like sheep. They're not supposed to look like anything at all. In fact, I don't even really control what they look like specifically, because they are created by this Internet distributed cyborg mind, and they're created by everybody who's watching them.
The reason they are called the "electric sheep" is because it's the computer's dream, and not just your computer, but like THE computer, like the gaian All computers, on the internet, connected, and all the people behind them, as one entity.
What I did was, I wrote the software, and developed the algorithm. And it's based on a visual language, which is a space of possible forms. And then, all the computers that are running the software communicate over the internet to form a virtual supercomputer that then realizes the animations. It takes an hour per frame to render.
Now, the one in Menlo park is double the resolution and six times the bandwidth.
Lisa: This is something in RL that people can go in the physical world and see?
Spot: Yes. It's on a flat panel with a frame around it that hangs on the wall. A 65" plasma screen.
Lisa: Where does that live?
Spot: The company is called Willow Garage.
I designed the frame and had it built, and had it installed, and that one has some special electronics so that it shuts down when nobody is watching, to save power.
Lisa: So this running off a computer? (We are watching as he projects on to my livingroom wall.) So it's basically a screen that's hung on a wall that's then attached to a computer that's running the art?
Spot: That's right. And that one has a terabyte database. This one is 100 gigabytes.
Lisa: So it's always generating new art? Or is it sort of recycling through?
Spot: No. What it does is this. See, because it takes an hour to render each frame, and there are 30 frames per second and so this is far from real time. I mean, what is that, a factor of 100,000? So you can't generate it in real time, and that's part of the inspiration for the virtual worldwide supercomputer.
Lisa: Things the "hive mind" has already created.
Spot: Yes.
Lisa: A snapshot, if you will?
Spot: Yes, and then I edit it. Let me tell you more about the process, which is multifarious and complicated. The bottom line is that it all gets stored in a video graph, which is on the computer, and played back. It's in 1000 pieces that play back in a non-repeating sequence. So it's infinitely morphing, and non-repeating, but you do have refrains. So images, sheep, do come back, but then after you see a sheep, it will go and do something else.
So like, watching the video, there's an algorithm that is running live, as you watch it. But the algorithm is like walking in a garden. Ya know, like an english garden with paths? As you walk along the path you see pretty flowers, and then you come to an intersection, and you have your choice of which path to take next. And so, more or less, if you wander at random, you will come back and walk the same path twice, and see the same thing twice, but, then you'll go and you'll do something different. So, that's cool because there are some parts of the garden which are really remote, and the only way to get to them is by a certain sequence of turns, and so there are some sheep which only appear extremely infrequently, like, ya know, the rare, special ones and so, in order to see the whole thing, you'd have to watch continuously for months.
So, this one, in this 100 GB one, there are 1000 clips. If you played those clips/sheep (I'm sort of switching back and forth on what they are called), if you played them all end to end, it would be like 18 hours. So as far as a human's concerned, it's infinite.
Lisa: You went to Carnegie Mellon right?
Spot: Oh yeah - It really affected me. That's Hans Morovec's Homeland. I was really immersed in those ideas when I was a student.
Lisa: You were a student in Artificial Intelligence there?
Spot: Well, I studied metaprogramming and the theory of programming langugages. So, what I did was I created languages for creating visual languages for doing multimedia. Basically, a special programming technique for doing multimedia processing -- like real time video 3-D computer graphics, with audio, and in particular, in a feedback loop with a human being.
And so, I didn't create a language. I created a language for creating languages, because I wanted to make it easier for everybody to create their own language. And so you'll get these towers of languages, and it's almost, basically like virtual reality, where you have realities within realities, where you can have languages within languages.
Lisa: And they all fit into the same architecture?
Spot: Yeah. So you can analyze these things coherently, and you can create programs which process and optimize these structures.
The genetic code is now in XML. The language, was the key innovation.
Lisa: Wow. What did you use before the XML? What else were you doing that with?
Spot: Before XML, for this genetic code, I just had some stupid text format which I made up myself.
Lisa: Ah. I see. But it was hard to do the kind of architecture you described, without having XML right?
Spot: Oh well that stuff I did more with LISP. Scheme in particular. Scheme is just a version of LISP.
Lisa: Interesting...
Spot: So the visual language is the genetic code. It's the mapping from the genotype to the phenotype. And so each of the sheeps has virtual DNA that controls how it looks and how it moves. And everything you see is an expression in that language. And then, it's a continuous language. It has a lot of special properties, because it was designed to be able to do this. It's made with floating point numbers, and part of the idea behind this whole thing is that life and its existence is continuous.
To be continued...
This post and all the art in it is under the same Creative Commons Attribution 2.5 Generic license, as is all of Spot's art.
March 04, 2008
Welcome to Strengths Island
I've been hanging out on Strengths Island for a couple days now, and couple nights too I think -- writing up instructions for the Island's activities, so you can pop over there and enjoy them too.
I'll be linking to a few basic tutorials from my Second Life A-Z throughout these explanations. You'll be able to skip those parts if you're already familiar with how to perform those tasks in Second Life.
I decided to take a chance at over explaining this stuff a little, in order to encourage more educators to sign up for Second Life and come check out this Island.
There's a pretty good chance I'm there right now, if you want to come by and say hi. Teleport Now.
Here's a fun way to aquaint yourself with the Island and all of its various educational activities:
a Balloon Ride Tour.
Here's how to take the balloon ride:
Right click or apple/click and choose "sit," to sit in the balloon.

Type "start" in your local chat window to start the ride.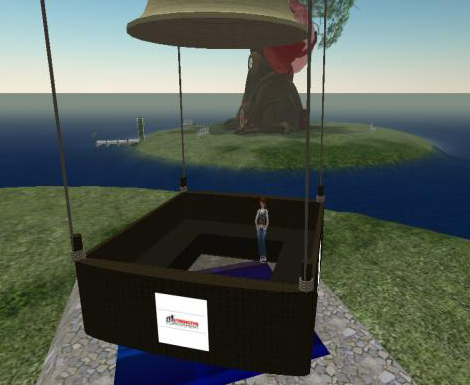 Now let's learn some more about the "Strengths Movement in general...
March 03, 2008
Not very long ago. In a galaxy not too far away...
Once upon a time, I met a skateboarding, breakdancing Tin Woodsman named Gary Bukowski
Gary is a Wishfarmer.
The Wishfarmers are basically a group of Second Life Wizards.
Now I spend my days and nights on Wishfarmers Isle, often just enjoying the surroundings around me, and trying remember what it was I used to do in that other place "out there."
Our latest creation is Strengths Island, which you are about to hear a lot more about...
My Adventure As A Wishfarmer Begins
Teleport to Strengths Island
So I promised that I would start blogging more -- about everything, but in particular about the projects I've been working on these days, which are mainly in Second Life.
Well, I'll finally start making good on that promise today, and I'm really excited about keeping you more in the loop on what I'm working on, so you can help me make it better.
The Second Life learning curve is a brutal one, but I know that soon, if I keep at it 24-7, I'll eventually absorb all the necessary data to effectively mesh with the grid.
Until then, I'm taking as many notes as I can about all my experiences during this precious time, when I still feel like a "Noob" (a SL new user), so I can incorporate them into my writings and teachings accordingly.
It's been a while since I've really taken on the mission of mastering something new like this. In 1996, although I knew very little about computer programming at the time, I decided I wanted to learn everything about Web Standards -- especially HTML and XML. Thanks to several members of the W3C's staff and its original XML Working Group (who spent countless hours on the phone and writing emails to help me learn all the details), in just a few years, I was teaching XML for UC Berkeley Extension Online.
Then, in 2001, I decided to ramp up on Copyright Law in the hopes that it might somehow combine with my technical skills to perhaps play a role in helping to turn the copyright situation around. That time, although I wasn't even sure myself where my research would take me (and again, as a result of countless individuals taking me under their wing, to help me learn quickly), I found myself a co-founder of Creative Commons, working with Lawrence Lessig.
So, as you can see, these leaps into the void seem to pay off for me, generally, in both the short and long term. I consider this to be another such leap.
This latest endeavor also ties in nicely with the graduate and undergraduate level teaching on social networking and virtual worlds I've been doing for Prof. Michelle Wolf and Prof. Marie Drennan at SF State's Broadcast Electronic Communications Arts Department (BECA). I'm having a blast learning these new interactive education concepts and technologies from The Wishfarmers, and I am eagerly incorporating them into my own bevy of teaching knowledge and materials.
I guess by now it's pretty obvious that I truly believe virtual worlds have the potential to help shape and improve our lives. And not just the lives of those online, but also the those out in regular old "meatspace." It seems clear to me that virtual worlds are no more a fad or passing phase than the Internet itself.
But now I'm getting ahead of myself, and it's usually best to start at the beginning...
February 12, 2008
Pete Worden Live From NASA Ames - In Second Life - 9:30 AM PST/SLT
NASA gave me the OK last night to invite you to the virtual version of a little event,
The Next Generation Exploration Conference-2 , that's taking place this week at NASA Ames Research Center.
This morning, (Tuesday, February 12) at 9:30 AM, Pete Worden will be kicking things off.
Here's the SLURL to the:
NASA Sun Amphitheatre.
Gary Bukowski from The Wishfarmers and I helped them set up last night.
What a blast! (And I, too, am becoming a Wishfarmer! :)
February 05, 2008
Big Tuesday Going On "Somewhere out there"
I'm going out to go vote right now...... and I've already said "go obama" and all that...
But in reality, I'm much more fixated on virtual reality right now, as I've been working with a group of people called "The Wishfarmers" that you're going to hear me start yappin' about... as is my way... when I get infatuated with a new project.
Come to my metaverse playpen, and click "play" on your video and audio controls.
It's pretty cool, courtesy of
Electric Sheep Artist Spot Draves.
Spot will be doing an exhibit in the
Node Zero Galleries in early March.