November 11, 2008
Some Cool Music Videos
Time to just have some fun with some cool music videos I've been digging:

Mercy by Duffy.

Rockferry by Duffy.

I think I'm in love by Beck.

Disco Lies by Moby.

Gamma Ray by Beck.

February 11, 2008
McCain On TV Funhouse
You know, everything I have to say about John McCain I already said back in 2004.
What was true then is perhaps even truer now. This animation says it better than words ever could.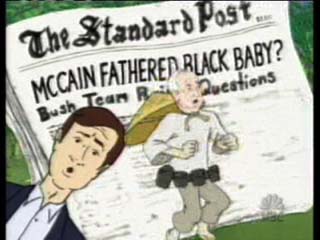 September 02, 2007
April 08, 2007
Kent Bye On Speaking Out
Kent Bye just recently relocated to San Francisco from Maine, and the Bay Area will never be the same :-)
Just found this cool vid of Kent Bye and Jay Dedman walking through San Francisco discussing the role of citizen journalism's influence on big media and their continued state of denial regarding its obvious impact.
Translation: Turns out that people's opinions do matter after all!
Update 4/13/07 - Kent explained to me that "That vid is actually from NYC way back in October of 2005. :)
Jay shot it and was cleaning up his archives during VBW07"
March 27, 2007
Stephen Colbert vs. OK Go
On YouTube:
Stephen Colbert vs. OK Go
This is another creation from his blue screen contest. (It's all up on the same youtube page.)
November 23, 2006
Thanksgiving Playlist
Hey send me any thanksgiving videos you know of (that ya like :-) and I'll keep adding them all day.
Today I realized that, yes, there will be a wireless network in every household that I'll be celebrating at today (I'm hopping around a bit), and, no, I wasn't too proud to bring my laptop along with me and add videos to this playlist all day.
If it's not rude to watch football or whatever it certainly can't be too rude to watch videos on my laptop :-)
Email me with your vids at lisa@dabble.com or send me a dabble message after you register for your own dabble account.
thanks and
gobble! gobble!
November 11, 2006